History of Grandma Tommy's
Grandma Tommy's history dates back to the 1940's. Starting around Memorial Day weekend (2009), visitors and locals shopping for fresh fruits and vegetables will be able to find what they're looking for at Grandma Tommy's, on the east side of Wisconsin 42/57, just north of Sturgeon Bay in beautiful Door County.
But Grandma Tommy's is more then a purveyor of locally grown product; it's part fond remembrance, part history and part family.
The business is owned by Steve Laubenstein a well known Door County home builder and his wife Kate.
Steve, Kate and their children, Drew, Sam and Amanda, along with Steve's mother, Irene, have been planning the business since 2004; doing market research, putting together financial projections, making contacts with local growers and scores of other details.
The site of the market is across the highway from Laubenstein's Construction business office, which was once the home of John and Antonia Tomjanovich. They came to Door County from what was then Yugoslavia.
In the early 1940's, they opened a roadside vegetable stand in front of their house. Because the name Tomjanovich didn't easily roll off the tongue, the name on the vegetable stand was "Tommy's"
Steve shows photographs of himself as a boy, along with his brother and eight sisters, with his grandparents' vegetable stand as a backdrop. Many of the photos are displayed at the new store.
The fruits and vegetables sold at the original stand were grown by the Tomjanovich family, including Steve's mother. The stand remained open until the couple retired in the late 1960s.
The sign at the new business is artist Kathy Stanaszek's rendering of a photograph of Steve's grandmother as she looked in her later years.
The produce for sale at the new Grandma Tommy's will come from neighboring farms and businesses. " We're trying to keep it local," Kate Laubenstein said. In addition to produce, the store will sell "jams & jellies, wines, micro-brews," she said. Also to be sold are sausages, brats, and burgers from Marchant's Meats in Sturgeon Bay; cheese from Renard's and preserves from Wienke's Farm Market, both on County s; Door County Ice Cream by the scoop; fresh-baked pies; and twelve kids of homemade fudge, she said.
Kate will do the baking and fudge-making, Steve said. The children will help during the summer months. Drew is graduating from St. Norbert College in De Pere this spring(2009). Sam (Samantha) is about to graduate from Sevastopol High School(2009) and Amanda is still a student there.
"We'll have all the fruits and some of the vegetables," Steve said. The couple plans to also sell olive oil and Door County coffee - ground on site.
The building was designed by Sturgeon Bay architect Mark Isaksen. It sits on a part of the Old Tomjanovich Farm. The same picture of Grandma Tommy that is on the signs in front of the building will grace the sides of the 43-foot tall building.
There was not question of the color of the building's exterior. " I wanted it to be red," Steve said. It's a dream of Steve's to someday again grown some of the fruits and vegetables they sell.
In the years since the original Tommy's stand closed, it hasn't been far from Steve's mind, or his desk. The 1960's version of the stand was relocated to an area behind one of the well maintained barns on the original farm homestead that is now used by Laubensteins construction business.


Country Store A Tribute To Grandma's Legacy
Her name was Antonia Tomjanovich, but she was known as "Grandma Tommy". A true pioneer, she arrived in Door County to marry and make a home, bringing with her the foundation of values upon which she'd been raised and which she then bestowed upon her own children and grandchildren; the satisfaction of hard work; the love of, and devotion to, family; and the pure delight to be found in the growing, cooking and partaking of good food.
Grandma Tommy started the farm stand in the 1940's. She and husband John moved to Door County from the Upper Peninsula of Michigan after immigrating from Croatia to Canada. Grandma Tommy shuttered the windows of the farm's stand in the late 1960's. She passed away at age 95.
Grandma Tommy's Country Store named in her honor, is the family's "dream come true" according to Kate Laubenstein, who, with her husband, Steve, own and operate the new store. "She was the salt of the earth. A unique lady -- never one to mince words, she was open, straight forward, honest, helpful, and hard-working. But she was a softy!"
She was also ahead of her time. Realizing the opportunity the widening access to the county offered, she opened one of the first roadside produce stands to be found in Door County, Wisconsin.
"In fact," according to Kate, "her husband worked on the crew building the highway that ran by her farm stand and now our store , using horse-drawn equipment!"
Grandma Tommy's farm stand featured a broad range of products from local farmers. Her desire to make available Door County's best and finest is a tradition Steve and Kate are proud to continue.
Kate relates, "When he was growing up, helping out on the farm, caring for the old stand, being around his Grandma Tommy, this is what Steve recalls as being the "best of times". As a young bachelor, he dutifully --- with no complaints! --- reported to Grandma Tommy's every day for lunch. And the rewards were delicious!"
For Grandma Tommy was a star in the kitchen, her gruff exterior melting away as she lavished her guests with glorious food, making sure each found their favorites available.
Kate is recreating many of Grandma Tommy's recipes for the store. "Many of the favorites are not written down and sometimes the names are confusing. For instance, the wonderful 'chutney' as it is known in the Croatian Grandma Tommy, is actually a 'salsa'."
There were "secret" recipes, too. Kate recalls the "Sunday Dinner Ham," "The end of the ham is always removed before cooking. We assumed it had something to do with the recipe. Imagine our surprise when we discovered it was removed simply so the ham would fit in the roaster!"
Grandma Tommy's Country Store is more than a store, it's the celebration of family. "Our kids never knew Grandma's spark, her spunk." Kate explained. "Grandma Tommy was older and not well by the time we had our children, so we preserve this important line to their past, reminding them of their heritage. We've filled the store with our family pictures, collections from the albums."
The Laubensteins also hope to bring Grandma Tommy's original roadside stand over to the store's site. According to Kate, "We think people would enjoy seeing just how far we've come, how it's changed--a fun piece of Door County history!"


New Growth, Old Roots
Grandma Tommy's is rebirth of old tradition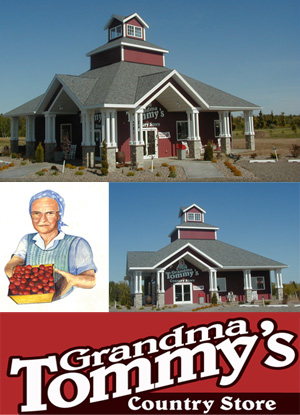 The sun-lined face of Antonia Tomjanovich is watching over Highway 42 once again north of Sturgeon Bay, Wisconsin in Door County. This time though, Grandma Tommy is not behind the counter of her produce stand, selling the fruits of her family's labor, but emblazoned on the side of a brand new farm market designed by her grandson.
Steve and Kate Laubenstein and their three children are working feverishly with construction crews and a small staff to ready the new Grandma Tommy's farm market for a grand opening Memorial Day Weekend 2009. The building was designed by Steve to include design elements of old schoolhouses and barns.
"We built a big porch around two sides of the building with the idea that people could sit in the rocking chairs on the porch, and enjoy a piece of pie, " Laubenstein said, " I tried to make the building as inviting as possible.."
Construction on Grandma Tommy's began in mid-February 2009. The Laubenstein's have been researching and making plans since 2004. Their hard work will be showcased by the number of items lining the shelves from a multitude of local producers and vendors.
"Everyone we talk to gives us a little hint on more people to talk to," about local products, Kate said. " The farmers and product producers would rather sell their products in town, than have to drive to Green Bay."
Trial and error during the winter allowed Kate to perfect her cherry pie recipe, although the market will offer quite a bit more than a piece of pie. The market boasts a kettle that can make 36 pounds of fudge at a time. Seasonal produce from Door County farmers will be available for sale next to fresh meat from Marchant's, Wisconsin cheese form Renard's, canned goods from Weinke's, wine from local vinters, Baumeister root beer, Door County coffee, Door County ice cream, flavored olive oils, micro-brewed and Wisconsin beers, as well as ample conversation about Tomjanovich farming and produce stand history.
Grandma Tommy had a crew for free, hardworking labor with Steven Laubenstein and his nine siblings. According to Steve, no child escaped Grandma Tommy's work wagon. As stern as she was with her grandchildren, Steve said he learned the value of hard work and is putting those lessons to use as his family works to ready the farm market to open for business.
Grandma Tommy started the farm stand in the 1940's. She and husband John moved to Door County from the Upper Peninsula of Michigan after immigrating from Croatia to Canada. Grandma Tommy shuttered the windows of the farm's stand in the late 1960's. She passed away at age 95. Steve's other grandmother brought fresh fryer chickens to the stand to sell along side of the fresh produce. Pictures of the family history are on display in the store, along with remembrances from the Laubenstein family of growing up and working the fields and orchards for Grandma Tommy.