History of Grandma Tommy's
Owners Steve and Kate Laubenstein thank you for visiting our website and want to share with you some history on our family-owned and operated Country Store. With this story, we celebrate the beginnings of Grandma Tommy's original roadside market back in the 1940s and illustrate how Grandma's market has transformed over the decades into the present with the new Country Store established in 2009.

If you look out the front windows of Grandma Tommy's and across the road here on Highway 42/57 just north of Sturgeon Bay, you will see the original farmstead of John and Antonia Tomjanovich. At the young age of 17, John and his even-younger brother Steven, immigrated to North American from Zlobin, Croatia in 1916. Antonia Shubat, also of Croatian heritage, immigrated with her family in 1906 at the age of one year. John's path crossed with that of his future bride, Antonia, in the mining town of Iron River, Michigan, many years later. Their Croatian friends encouraged them to move lock, stock and barrel to Door County, Wisconsin and they were united in marriage soon thereafter in 1923.

John started farming and also worked on the new highway that would run past their farm. At this same time, Antonia's entrepreneurial spirit realized that access to Door County was broadening and together they opened one of the first roadside markets in the county. Since "Tomjanovich" did not easily roll off the tongue, the family name was abbreviated and the new business became known as "Tommy's Farm Market." The August 25, 1949 edition of the Door County Advocate announced the commencement of Antonia's dream
It was Grandma's idea and desire to make Door County's finest produce available to friends, neighbors and visitors. The
fruits and vegetables sold at the original stand were grown by the Tomjanovich family. After a while, even relatives were contributing to the success of the store, adding fresh fryer chickens to the growing list of options available at the market! Before long, preserves, fresh bakery and other goodies started to appear on the shelves. Without much fanfare, the roadside market soon became a regular stop for locals and tourists alike, shopping for fresh fruits and vegetables and knowing they could find it at Tommy's. According to current owners, grandson Steve Laubenstein and his wife Kate, "Grandma Tommy was a star in the kitchen, her gruff exterior melting away as she lavished her guests with glorious food and making their favorites available. She was a unique lady, never one to mince words, honest, and hard-working, but a softy when it came down to it."
Steve fondly recalls helping out on the farm with his nine siblings as some of the "best of times", being around their Grandma Tommy, having picnics in the yard, learning the value of a day's work and the reward of a home-cooked meal in Grandma's kitchen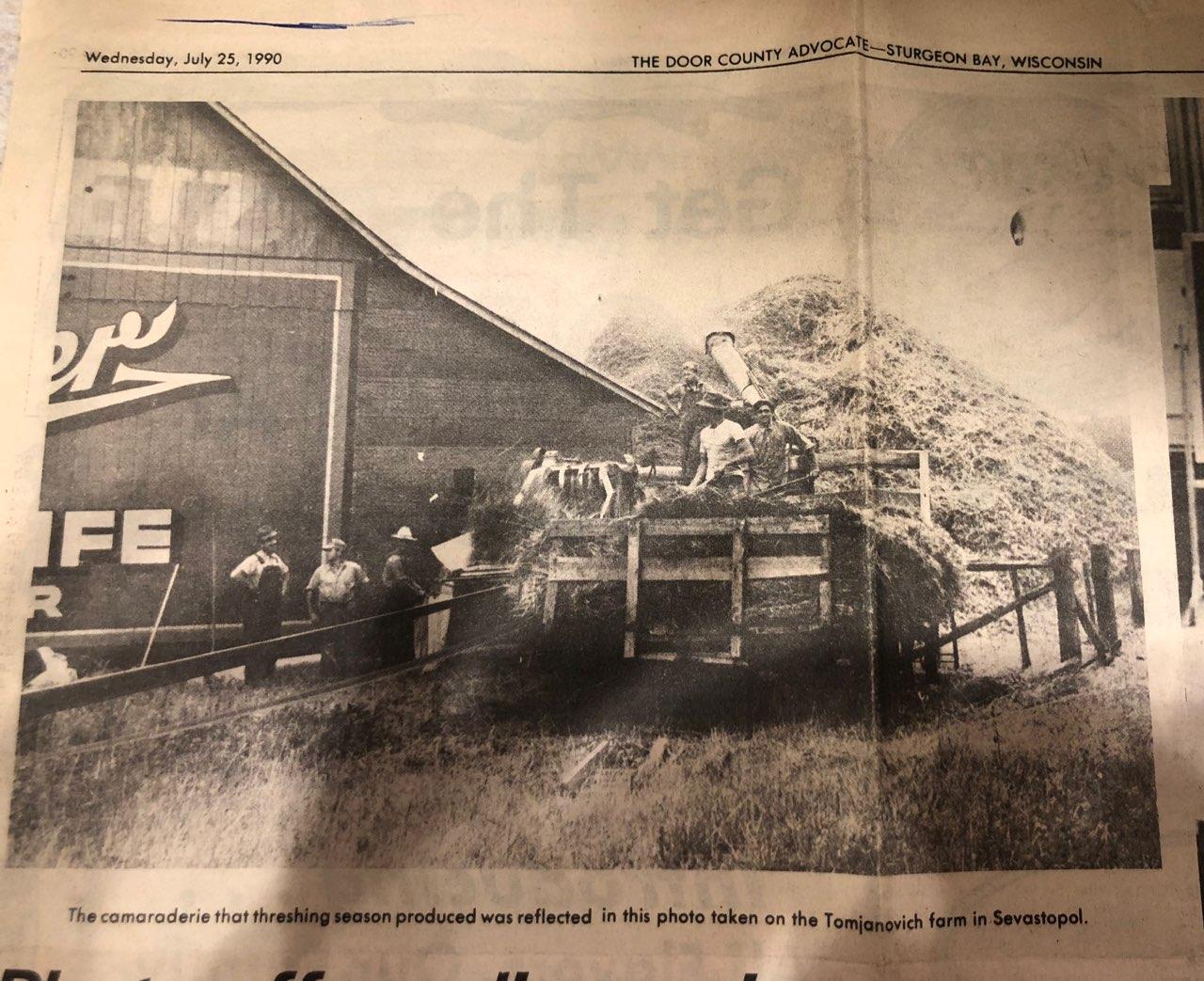 While Antonia tended the roadside market, John and his two sons and daughter were busy on the farm. As the saying goes, "in the good old days" neighboring farmers worked in fellowship and camaraderie, especially at threshing time when all the farmers came together, hauling the machine from farm to farm, to exchange labor and share the work. A crew of loaders, bundlers, baggers, machine operators and wagon drivers amounted to about 14 men needed to thresh the old fashioned way, plus a team or two of well-behaved horses. Antonia and the other farm women worked in the kitchen to prepare a morning lunch, a big noon dinner and an evening supper.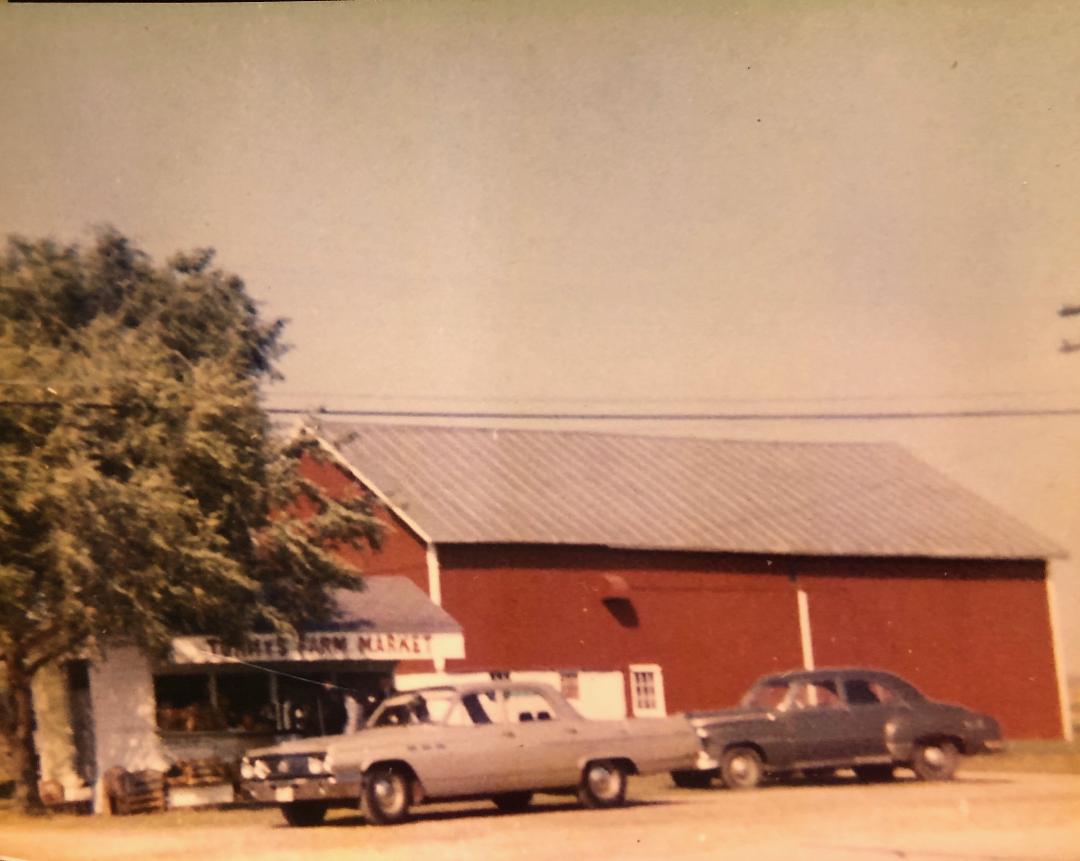 The roadside stand remained open until the late 1960s,
when the couple finally retired. The original wooden structure is still
intact, having recently been moved to the Valmy Thresheree grounds on Country View Road in the Town of Sevastopol, about 5 miles from here. It is being restored to its prime condition and will be preserved there, along with other historic buildings, in honor of Door County's pioneering spirit and heritage.
In keeping with her kind and generous philosophy, Antonia, at the age of 76, found a new way to help those less fortunate. In 1982, she teamed up with a young Jake Neimeyer (originally from Door County), coordinator of the Milwaukee Inner City Development Project, and started gathering up donated goods and sending them down to Milwaukee where they were welcomed by families in need.

Grandma ran radio ads and put notices in the church bulletins asking for leftovers from rummage sales. The community responded resoundingly! She spent six days a week, four hours each day, packing and storing clothing, food and toys in her own 2-car garage, stacked to the ceiling, until they could be picked up and delivered to the inner city families. When interviewed for an article in the November 27, 1982 Advocate, Antonia remembered the Great Depression and said she didn't like to see anything go to waste. "People are so good up here and they want to share with others. I'll keep going until they tell me to quit."

New Growth, Old Roots – Our Tribute to Grandma

With all that rich heritage and fond remembrance in mind, owners Grandson Steve and his wife Kate Laubenstein continue the Tomjanovich family traditions. The store is named in honor of Grandma Tommy and the family strives to make available to everyone Door County's best and finest, with a focus on locally sourced products.

Steve and Kate's children, Drew, Sam and Amanda, and even Steve's mother Irene (Grandma Tommy's daughter), had been planning the new business since 2004. After conducting market research, developing a financial plan and contacting local entrepreneurs for insight, Steve and Kate broke ground in February 2005. The building was designed by Sturgeon Bay architect Mark Isaksen and sits on a part of the old Tomjanovich farm, across the highway from the original roadside market location. Steve, at the time an owner/operator of a residential and commercial builder business, had a vision of a building that would fit with the rural landscape, making sure to include the elements of an old schoolhouse and some local barn influence. Without a doubt, there would be a big porch on at least two sides with the idea that people could sit and relax in rocking chairs, enjoy a piece of homemade pie and share some pleasant conversation, like an old-time Sunday afternoon social. There was no question of the color of the building's exterior. "I wanted it to be red," Steve said.

The sign at the new business is artist Kathy Stanaszek's rendering of a photograph of Steve's grandmother as she looked in her later years. The sketch reflects Grandma Tommy as a salt-of-the-earth woman, strong, honest and with some well-deserved wrinkles from hours spent outdoors tending to the garden. Kate says "our children never had the chance to see Grandma's spark and spunk, so we try to preserve this important connection to their past, a reminder of their heritage." The new store is filled with photos, remembrances and other collections from family albums. It is easy to strike up a conversation with Steve or Kate about the Tomjanovich farming days and the roadside market history.

When Kate and Steve first opened, their children were in school but still helped out on weekends and over the summer months. Now, daughters Samantha and Amanda have come on board full-time, adding their retailing expertise and fresh insights to the business. In true family business fashion, it is not unusual to see Sam's young sons, L.J. and Mason, playing at the store.

From Kate's kitchen comes an assortment of fresh-baked pies, using recipes perfected over the winter months while the store is closed for the season. The market boasts a kettle than can make 36 pounds of fudge at a time and shoppers can choose from no fewer than twelve kinds of homemade fudge in peak season! Kate is recreating many of Grandma Tommy's original recipes for the store and says, "many of the favorites are not written down and sometimes the names are confusing. For instance, the wonderful 'chutney' as it was known by the Croatian Grandma Tommy, is actually a 'salsa'."

Grandma Tommy's Country Store is more than a family business, it is a "dream come true" as Steve and Kate carry on the country market tradition established long ago by Grandma Antonia Tomjanovich, their treasured "Grandma Tommy."
Thank you for visiting our website and we look forward to seeing you at Grandma Tommy's Country Store!