Welcome To Grandma Tommy's Country Store

Grandma Tommy's winter hours (Nov.&Dec.)
Open Friday-Sunday from 10-4
Curbside pick-up also available.
For curbside pick-up you may email your order to grandmatommys@yahoo.com or give us a call at 1-920-743-2800. We will be offering everything that is listed on our website as well as pies and frozen cherries. Our pie Flavors are cherry, apple, caramel apple nut, and fruits of the forest. Once we receive your order, we will contact you for pick-up.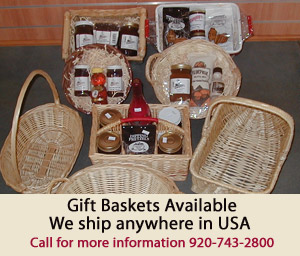 Grandma Tommy's Country Store is located just north of Sturgeon Bay, Wisconsin in beautiful Door County. Grandma Tommy started the farm stand in the 1940's. She and husband John moved to Door County from the Upper Peninsula of Michigan after immigrating from Croatia to Canada. Grandma Tommy's Country Store named in her honor, is the family's "dream come true".
Open 7 Days A Week In Season
10:00 a.m.- 4:00 p.m.(May.-Oct.)
Specializing In Door County Wisconsin Products
Local Produce - Fresh Fruits & Vegetables
Free Sampling of some of our products
Free bus parking and complimentary refreshments for drivers and tour guides
Door County Products:
Cheese

Wine & Liquor

Jams & Jellies

Salsa

Meats
Coffee
Honey
Maple Syrup
Apple Cider
Olive Oils
Mixes
Mustards
Dried Cherries
Cherry Juice
Fresh Homemade Pies & Fudge
Hand-dipped Ice Cream
Gifts & Artwork
Micro Brews
Snacks
Candy
T-shirts
and .....much more


Look for the red & white school house - farm-style building with a cupola on the east side of the highway.

Call Today at: (920) 743-2800

2 Entrances from Hwy 42/57.
Use Blahnik Investment Group driveway or enter from Forest Road.

Connect With Us